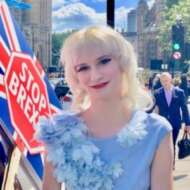 Kika Angelic
Founder of Seller Union
Kika Angelic started her e-commerce journey a long time ago simply by following her hobbies. E-commerce platforms were intuitively the best place where she could buy products and gadgets which were unavailable in Slovakia – Kika's home land. Over 10 years ago Kika realized that she can also sell products online and that there are goods which are scarce elsewhere in the world, while there is no demand for them in Slovakia.

First online sale Kika made at an unbelievably young age of 13 when she first time listed limited edition lipstick on eBay bought at a local drug store. What were you doing at the age of 13? I bet you had no interest in selling products online, right?!

Kika never intended to sell products online full-time or end up as an e-commerce seller too. Selling on eBay was for her simply fun and selling quickly became the best hobby to stick with for more than a decade.

In 2009 when Kika started selling online, e-commerce world was literally at its beginnings and while other e-commerce platforms were growing, Kika grew her selling experience and knowledge with them hand in hand.

Now, Kika is selling products worldwide on Amazon, eBay, Etsy, Bonanza, Ecrater, OnBuy, Shopify and on her own website. Can you imagine having such experience selling on all these e-commerce platforms successfully for so many years at her age? Unbelievable, right?!

E-commerce biggest hobby made Kika a very successful 6-figure seller years ago and this status of successful e-commerce seller she maintained until now. At the time when Kika reached so-called "financial freedom", the moment when she could buy literally anything she wanted, travel wherever and when she liked, she decided to become Kika Angelic.

Angelic is not just a nickname of her, but a clear definition of her e-commerce hobby progression. Kika Angelic spent countless hours every single day for many years helping e-commerce sellers with their challenges. Thousands of successfully reinstated Amazon Seller Accounts and even more help provided by Kika free of charge to the Amazon seller community. These are facts showing her generosity, kindness and proving how she loves e-commerce.

Seller Union is the next level of Kika's Angelic hobby to keep providing the best advices, news and knowledge to all of us e-commerce sellers. At this point, some of her services are now paid but still, all helpful news posts on the Seller Union website are free of charge.

Thank you very much Kika!
Robert Capla
Co-Founder of Seller Union
I am a Python developer. I have very high experience in web development. I usually use the framework Flask, but these days I am trying with the Django framework. I also have experience with JavaScript. I prefer the "framework" React because it's very small and with React I could do everything. In my free time I usually play football and workout in the gym. I like Netflix and my favorite series is Inventing Anna.